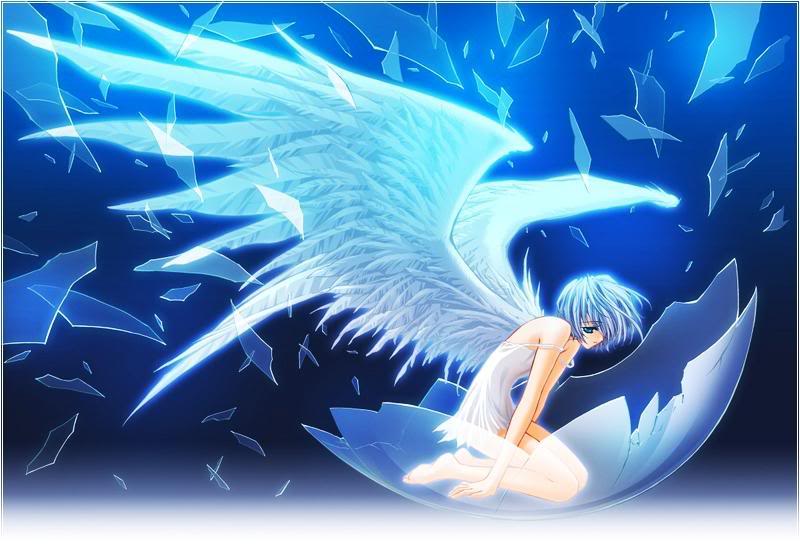 Full Name: Akahana Hyou
Hair color: Black(Actually long, and she has wolf ears and tail)(She is a secret experiment)
Date of Birth:May, 10
age:14
skin tone:light colored
wing color: Bright white, her wings have a light blue and black tint to them.
Eye color:Dark, blue
Physical Discription:
Her long black hair down to her butt, Her eyes soft but yet unknown to read. she wore a small white dress during the "School" times and currently wears a black pair of pants and a t-shirt(the t-shirt on her has holes on the stomache and the mid-back.)Her eye sometimes mistaken for black, she one point hat ripped up jeans and a neon green t-shirt.She has an almost perfect hourglass figure and a shy serine look on her face.
Personality:
she is quiet when you first meet her, she does things her way, and hates the school wanting it destroied. She told herself she would do anything for its downfall, even her own death if neccisary....So shes serious when needs be. But she can also be very relaxed. she loves the ocean and the forests. She is sweet, soft and kind.
Powers: She can read and control minds, but has issues on it.she can fight like an eraser quite well, she is excellent at flying and she can transform into an eraser(sortof)
Extra Info :She refused to speak for 13 years of her life. and fought with the whitecoats. she actually got awaywhen she was 12 1/2 and is currently dotting to place....She always hid her face when an experiment was taken out of the room.She never made any freinds and she was alone.